2020 has been an unrivalled year for TRACER who has seen continuous growth and success throughout. From the launch of the TRACER rebrand from ACER to the introduction of the revolutionary Clog Free Marker. To this end we are very pleased to announce TRACER has been awarded the Professional Builder's Top Product Award 2020. This is a great testament to TRACER's product quality and performance and a celebration of our marking solutions.
Professional Builder's Top Product Award 2020
Every year Professional Builder reveals its top products based on the interest shown by readers of their magazine and digital section. Each month 112,628 copies of the Professional Builder's Magazine are distributed via the trade counters of more than 2,000 builders merchant stores across the country.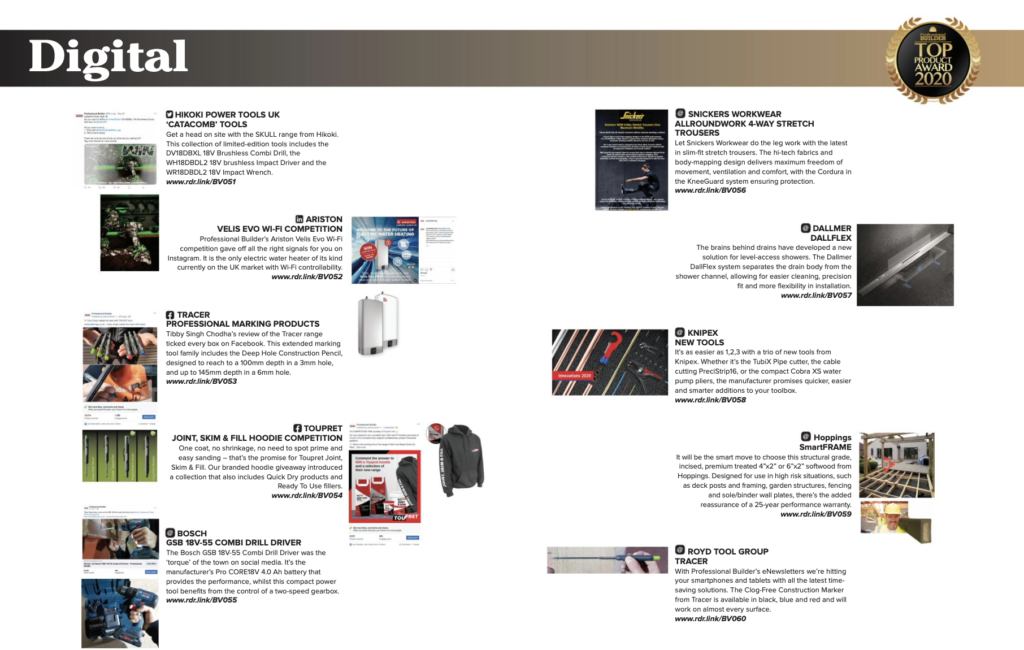 What's included in the TRACER range?
The TRACER range includes the Deep Hole Pencil and the Double Tipped Deep Hole Marker, both designed for the accuracy of marking holes. The Deep Hole Pencil has the ability to mark 100mm depth in a 3mm hole and 145mm depth in a 6mm hole. With an inbuilt sharpener for maximum precision, the Deep Hole Pencil is perfect for marking through beams and joists. The Double Tipped Deep Hole Marker features a reversible double tip which allows for marking both thin and thick lines. With the ability to mark 50mm depth in a 5mm hole, this marker is perfect for plumbers and electricians.
For use with the Deep Hole Pencil is the Replacement Leads which includes six 120mm leads – 4x 2B graphite leads and 2 x yellow wax leads. This comes with a durable holster that's designed to protect the leads on site. Plus, the all-purpose Clog Free Marker designed to mark on almost every surface, including dusty and shiny surfaces. Along with the latest addition to the range, the 5mm Tape Measure.
Interested in stocking the TRACER range? Contact us today to become a TRACER stockist.